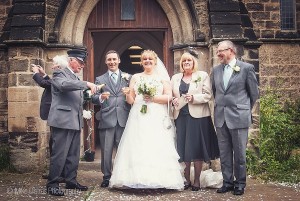 As long as either you or your partner lives in the Parish of Seacroft, or can prove a "qualifying connection" in the parish, you may be legally married at St Richard's or St James'.
In practice, most choose to be married at St James' Church, on Seacroft Green.
Click here to see a map of the Parish of Seacroft
What if we don't live in the Parish of Seacroft?
If neither of you lives in the parish, don't despair …
there are three ways around this problem:
You can still get married here if you can prove a "qualifying connection" with the parish – for example, if you, or a close relative have lived for at least 6 months in the parish at any time.  To see the list of "qualifying connections" visit the Church of England website by clicking here.
If you have no connection in the parish but are willing to come and worship regularly (at least twice a month) at one of the churches in the parish for a period of 6 months before the date of the wedding, then you qualify to go on the membership list for the parish – the "electoral roll" – which also means that you may marry in any of our churches.
If neither of these is possible, you may wish to obtain a "special licence" to permit your wedding in Seacroft Parish. This is a bit of a hassle, and involves a fee, but is a possibility in the last resort!